Whether you cook on a simple freestanding BBQ or plan on installing a bespoke alfresco kitchen Patio livings staff can help you look at the best options to suit your lifestyle.
We help you work through all the factors that affect these decisions:
Your budget will inform the scale and the fittings within your kitchen
The location of the kitchen within your alfresco. Consideration of how you work, whether you have a sink, and refrigeration and how these interact with cooking equipment and bench space are all important.
The different spaces available under your alfresco will determine how flexible we can be with your design.
The appliances you will need to successfully install the kitchen. Depending on the scale and detail of your outdoor kitchen this can be a simple or very detailed undertaking.
Alfresco Gallery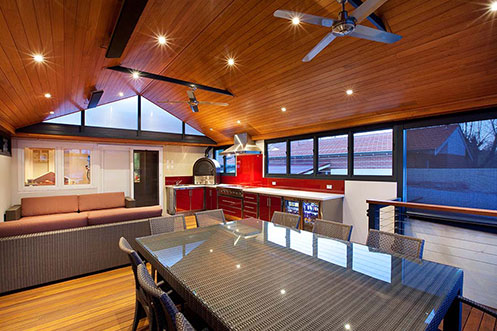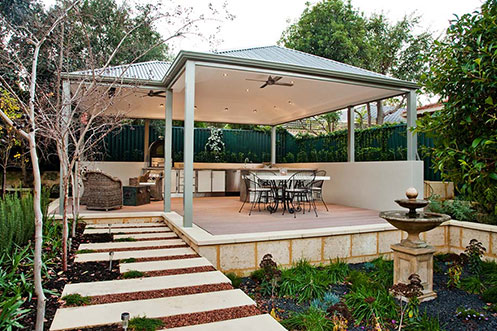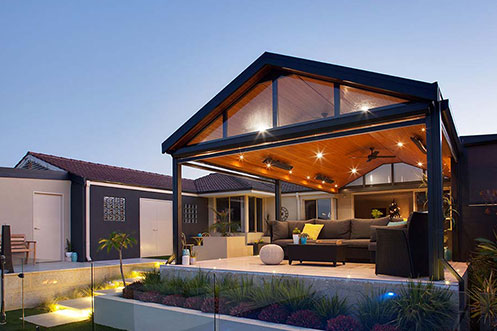 Your preferred design and style of kitchen. It's important to maintain the seamless transition from inside to out, and the style and look of your kitchen is integral to this. We'll help you make the right choices to make this happen.
Weather proofing your outdoor kitchen is extremely important. If you are spending the money on adding appliances and fittings outside it makes sense to ensure that they won't degrade in the elements.
This process is essential for us to work thru as the design of the alfresco extension itself may have a big influence on the alfresco kitchen or BBQ
For example if your homes kitchen is a long way from the alfresco a drinks fridge, sink and preparation surfaces may be far more important than in a home where the kitchen is very close or opens up onto the alfresco area.
Patio Living have spent many years working with Perth's best suppliers of outdoor kitchen appliances and the areas most experienced alfresco kitchen designers. This ensures we can introduce you to a world of stunning looking creations that mean your friends and family will not go thirsty and will enjoy your food. The only danger is your home may become too popular!