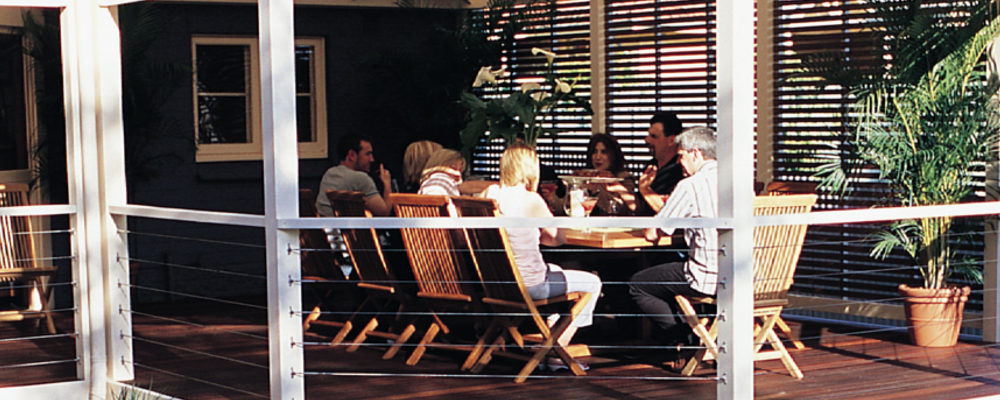 Entertain Guests in Your Alfresco
You want to entertain guests in your alfresco, you say. So what, exactly, does it take to be the gracious host or hostess of the most memorable alfresco party in your neighborhood? Here are some tips on topnotch alfresco entertaining.
Setting It Up
Setting up is half the battle and long before the party gets started you need to check on these details.
Decorate to set the mood. First impressions are crucial and what guests see the moment they walk into your alfresco contributes to the general mood for the rest of the time they are with you. Spruce up the place with plants and flowers and some strategically positioned conversation pieces such as artwork and other ornaments. Pay very close attention to your table setting. Even if the affair is an informal one with close friends or family, attention to detail, especially when it comes to the table setting, makes your function or party one to remember.
Create meal appeal. Heighten expectations and get people excited about the dining experience you have in store for them. A barbecue is almost guaranteed to get mouths watering. Set the grill ablaze, get the barbecue started and watch everyone suddenly perk up! While waiting for the other guests to arrive or for the main dish to be served, bring out some light appetizers.
Definitely serve drinks. Ice-cold juices, soft drinks and alcoholic beverages are great during the warm summer months. During the winter, serve up some warm tea mixes, hot chocolate, or coffee or even chilled wine!
Provide some temperature control. A good ceiling fan or some stand fans help make your alfresco enjoyable even during the warm summer months. If you have built in a fireplace or have some portable outdoor heaters available, you can even entertain guests during the winter.
Let there be lighting. Keep you alfresco well-lit so that you and your guests can enjoy even after the sun sets. Or conversely, if you have lighting control you may dim the lights somewhat to set the mood for a more intimate and subdued get-together.
Music is another reliable mood-setter. If you have outfitted your alfresco with the latest state-of-the-art audio equipment then you can put it to great use. Or you can hook up a portable music player and that will work, too. If possible, assemble your playlists in advance so you can leave your music player alone during your party and focus on entertaining your guests. Play music that complements the occassion, such as Christmas songs during Christmas. But be careful that the music does not overpower everything and everyone else. You want music to help set the mood, not dominate the event.
Provide some pest control, if necessary. The downside to enjoying the outdoors is that we share it with a lot of other creatures, both great and small. Take precautions that nothing unwanted flies, crawls, creeps or slithers into your alfresco while you and your friends are partying away.
Keeping Things Fun
During the party itself, just remember to keep things fun.
Greet each guest and make them feel that you want them to be there. This is a great opportunity for you to create a friendly, fun and warm social atmosphere.
If you have invited people from different social circles and they do not yet know each other, open up opportunities for them by introducing them to each other.
Relax and have a good time. If you're not enjoying then your guests won't be, either.