Everybody wants to spend a lot of time in the outdoors. Especially those of us blessed with an awesome Perth landscape, there's a lot of reasons why people may want to step outside.
A recent trend has also seen the rise in popularity of backyard expansions among Aussie homeowners, which makes it the perfect opportunity to spruce up your backyard.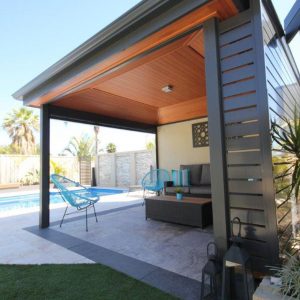 As Though Indoor
One great tip to really livening up your backyard is having the mindset of decorating as though it were an indoor space. Colours that adhere to your indoor setup would do a lot in bringing the comfort and general ease of being "at home" to your outdoors.
Designate A Center
Coming up with a designated center for your outdoor room would allow you to position everything else to come up with a cohesive design that draws and guides the eyes of yourselves and your guests.
Splash of Colour
As with the rest of your home, adding a dash of colour can really tie an area together. While it is most common that the exterior of the home be adorned with plain colours, feel free to have bright focal pieces for your Perth alfresco.
Flourish With Accompanying Pieces
A centerpiece is really important to create a guiding theme for the overall look of your outdoor room or timber patio. Having accompanying points of interest would give it a more dynamic look and feel though, not to mention great conversation starters!
FInd Your Balance
A well decorated outdoor space is one that's not drowning in accent pieces and features. While you may be tempted to add all your interesting pieces, remember to hold back so as to not overwhelm your eyes – or those of your guests. Think of it this way; putting away some of your decorative pieces would allow you to reshuffle them into the mix over time, keeping your Perth alfresco looking fresh.