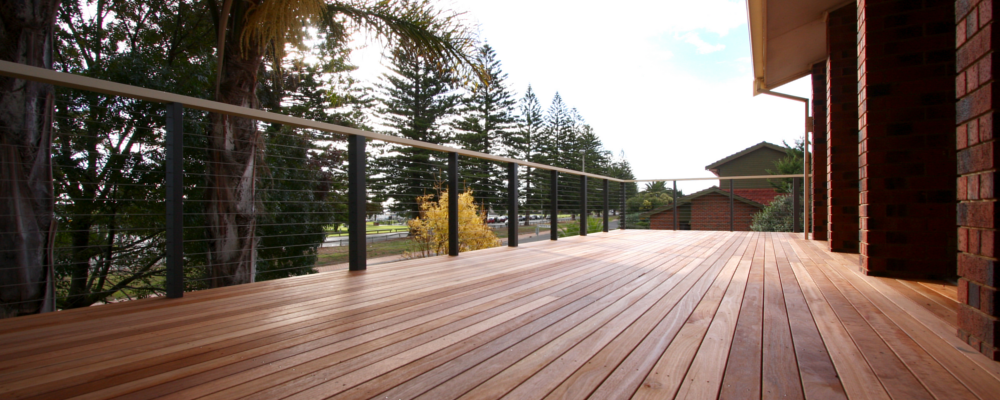 Flooring Options for Your Alfresco
When it comes to flooring materials for your outdoor patio or alfresco, there is a wide range of choices available and selecting the right one can become complicated. It helps to categorise the materials you are considering into a few main types. Let's check out each of these outdoor flooring categories and see what the advantages and disadvantages are for each type.
Wood
Wood is one of our main materials of choice. It is one of the simplest materials to use when building outdoor extensions, and this lowers costs significantly during the build. It is eco-friendly and durable. With proper care and maintenance, high quality wood floors will last years and can increase the resale value of your home. If, through the years, your wood floor suffers from some wear-and-tear, simple sanding and sealing usually does the trick and brings it back to glorious form. Of course, wood possesses a timeless appeal that never goes out of style.
Wood floors are durable, but not indestructible! They will suffer some damage from repeated wear and tear, as well as from the elements. These floors need to be cleaned, sanded and sealed every year or every couple of years.
This material is perfect for building raised decks and pool decks and also as a flooring under a white-lined alfresco or white colorbond roof.
Concrete or Aggregate
Concrete or aggregate floors are versatile, highly sustainable and require little maintenance — perhaps just a weekly mopping with soapy water. They don't cost very much, but when polished they look like natural stone. More elaborate finishes are also possible, giving the concrete subtle and sophisticated decorative effects. With proper maintenance it can last a very long time.
The main disadvantage of concrete or any solid floor is that it can crack. These may start small and not be noticeable, but these tiny crevices in time absorb moisture and increase in volume, further damaging the concrete.
Concrete is great for patios, driveways, garden paths and areas around swimming pools.
Natural Stone
Natural stone tiles include travertine, sandstone, granite and limestone, among many other naturally-occurring formations. No two tiles are exactly alike, resulting in floors that have a unique appearance. Stone tiles can add to the market value of your home and may be re-polished if scratched.
Natural stone can be sealed to prevent general wear and tear and can be the perfect complement to a cedar lined roof or an area that requires lots of reflected sunlight.
Tile
Ceramic tiles are very versatile and can be used in a variety of applications, including alfresco flooring. Glazed tiles are highly resistant to moisture and can be incredibly tough. They come in an astounding variety of designs, patterns and colours and make for great decorating opportunities. These are very easy to maintain, requiring no more than a wet mop to wipe away dirt and stains.
Glazed ceramic tiles can get quite slippery when wet. Even condensed moisture from surrounding humidity can make them dangerously slippery. For alfrescos, make sure you select slip-resistant tiles. Without a radiant heating system installed underneath, tiles offer nothing more than a cold, hard surface. When they do get chipped or cracked, repairing the damaged area may require calling in a professional.