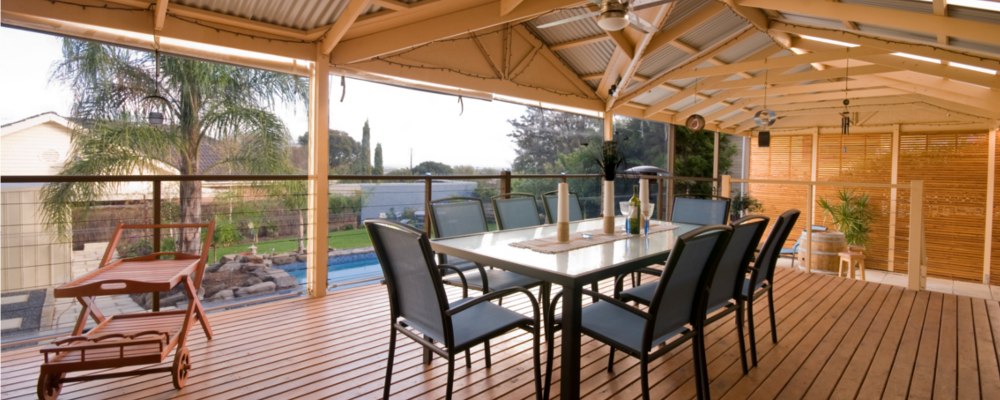 Spruce Up Your Alfresco
We've come a long way from when outdoor fun meant only a picnic basket, a blanket and a grassy spot in the park. Modern alfrescos now let you merge the comfort of your home with the beauty of the great outdoors. And you can give your outdoor extension a more homey feel by sprucing it up with accessories and creature comforts that suit your taste and style.
Barbecues
What picnic is complete without a right-proper barbecue? With a wide assortment of equipment available in the market, there is absolutely no excuse to not have a barbecue going in your next alfresco event. Barbecue grills come in various styles to fit a wide range of preferences and budgets.
Gas grills are the most popular type and are the best option when you want to quickly get your barbecue started and don't want to worry about preparing charcoal or cleaning it up afterwards. The disadvantages include the absence of that smoked meat flavour you get from using a charcoal grill.
Charcoal grills use charcoal briquettes and can be more time-consuming. They could also be a bit intimidating to newbies. However, these do give you that smoky flavour you long for in barbecued meat. And because charcoal produces higher temperatures than gas, you can get that seared meat effect that tells everyone that you are a barbecue ninja. But it does take a bit of time to get the charcoals started, and you will need to clean up afterwards.
Pizza ovens and built-in kitchens are enormously popular both as a way to provide delicious food and refreshment and also as a focal point. Patio Living work with Perth's leading suppliers of these innovations and the end results can be stunning.
Dining Furniture
This is arguably the centerpiece of your alfresco, so you must plan and choose this with utmost care, especially if you are out to make an impression with your guests. Make sure you consider the available space, as well as the orientation of the table shape in relation to the available space. Most tables sold in stores accommodate from 4 to 8 people and are either square or rectangular. However, you may also opt for round or oval tables. Irregularly-shaped tables can work if you can fit them within the space and the layout.
Other dining area enhancements include bars, buffet tables, dining cushions and slipcovers.
Table Accessories
A wide variety of products are available to accentuate your dining table. Dress up your tabletop with tablecloths and runners, then tie everything together with a potted plant or flower arrangement, an artwork, or a functional piece such as a candelabrum.
Cooling and Heating
Electric fans can help cool you down during the warm months of summer. They can also help shoo away bugs and flies. A good ceiling fan should be enough to provide a constant cool breeze, but this will require a sturdy ceiling with a suitable spot where you can install the fan. In case the structure does not allow it or if you prefer, you can also position one or more standard stand or tabletop fans in the alfresco. You could likewise get electric fans equipped with mist sprayers that keep you and your guests comfortable during hot, arid days. Instead of electric fans, you can consider portable air conditioners and coolers.
Conversely, a fireplace or heater will let you enjoy your outdoor space even during the winter. Patio heaters can be powered by gas, coal, wood or electricity. Each type has its advantages and disadvantages, but regardless of which type you prefer for your alfresco, check for the following:
Make sure the energy output of your chosen heating device is enough to heat up the entire alfresco area.
Will the heater require plumbing and other modifications during installation?
Make sure the device does not easily tip over. Surrounding flammable materials can catch fire if a heater is knocked over. Also make sure you know how to shut off the device in the event of an emergency such as this.
Lighting
If you intend to use your alfresco in the evening, you definitely need to install lights. However, your lighting options need not be limited to functionality; the lights themselves can be the attraction. Choose from an assortment of decorative ceiling and wall fixtures or position a lamp or two within your outdoor area to highlight key alfresco features and set the mood for the event.
Lounge Furniture
Besides entertaining, alfrescos are great for slowing down and recharging. If you have the space, adding in sectionals and sofas can add restful little nooks in your alfresco. Chairs, benches and ottomans provide additional seating options while coffee tables, side tables and accent tables offer added surfaces and functionality.
Rugs and Doormats
The right rugs can turn plain alfresco floor space into stylish and appealing spots. Weather- and outdoor-resistant rugs also help protect patio flooring from wear and tear and help prolong the life of your alfresco's floor.
Pillows and Cushions
Add an extra dimension of comfort and give your alfresco that plush appearance with pillows and cushions. They also give you an easy and inexpensive way to add color to your outdoor space. And when you feel it's time for a change, simply replace them or cover them up with something new, and you instantly transform your alfresco's look and feel.
Decorating the Alfresco
This probably requires imagination more than anything else because there are no limits to what you can do, other than what you fail to imagine. It's all a matter of rethinking how an area looks and feels.