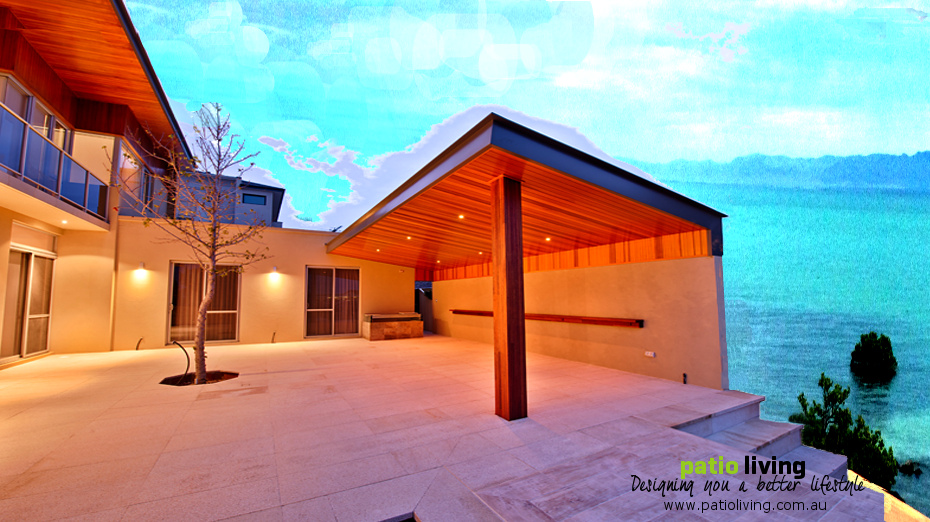 The Incompatibility of Beach Alfrescos and Steel Frames
On a good day you can sit back and relax on your patio, maybe looking out onto the ocean, sipping freshly brewed coffee (or something stronger) wishing that this moment could last forever. Doing or thinking about nothing at all, before another Monday arrives is priceless.
Yes, it's a dream. Moments, life and the the term "forever" are not very often compatible – just like many areas in Perth and steel patio frames. However, you can at least make your alfresco last even more than 25 years if you make a good choice.
One such boundary, Marmion Avenue sits close to the ocean and simply put, salty air plus regular steel equals corrosion. It will give your patio one of those shipwreck ruins look in a few years.
So any owner living on the ocean side of Marmion should take very careful advice before they chose the materials for their new alfresco extension.
Timber is the most ideal frame for any structure built near the ocean. Alfresco's in particular, need corrosion-proof materials as it is always exposed to the elements including dy salt air.  With just a simple coat of paint, your timber frame could last without any maintenance at all for more than 10 years while the following years could see a little bit of repainting.
In addition, timber has a more natural and beachy feel with the chunky beach house look to it. It also helps maintain cool temperature during summer and keeps warmth during winter with its great insulation properties.
On the other hand, if you really prefer steel or need to use steel beams or posts in the design of your new patio or alfresco area, these tips may help:
Galvanized steel frame – it could adequately work especially if it's covered with a gyprock ceiling or timber lined products.
Special coating – exposed steel frames need special coating to prevent salt air from seething corrosion.
Frequent wash – to prevent salt deposits that forms corrosion, exposed steel frames also require frequent washing with tap water.
Location, weather and materials are the foundation of your alfrescos. An ample amount of diligent considerations are needed before hand – just ask any of our clients in Perth and take a look at our recent projects.
If you prefer a  hassle-free construction with an expert advice, let us know and we'll be more than happy to help!