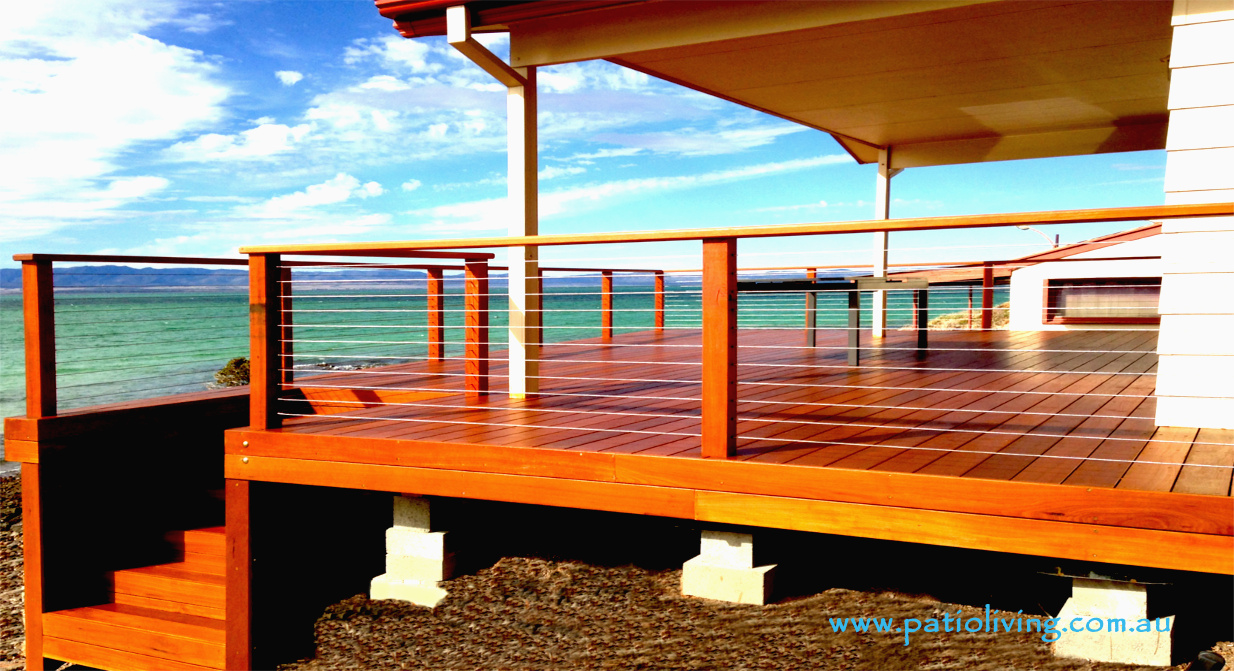 Timber Decks vs Synthetic Decks
Deciding between synthetic and timber decking will determine the future value of your backyard improvements and alfresco living space. You likely already have an idea of its importance – the decking materials you'll use could either increase your property's value or become a disappointment in the long run.
Briefly, timber decks use natural wood while synthetic decking is commonly made of wood and plastic composite. As an industry expert for 30 years, our insights with these two materials are useful to homeowners and new contractors alike. It could also help you decide in choosing between timber and synthetic decks.
Timber Decks
Last for 25 years or more
Timber Decking and Cladding Association or TDCA states that timber products conforming to their quality scheme may last for 15 to 25 years. Treated Pine on a well ventilated deck will last for easily this long and Merbau will do even better as it's density and natural features make it an extremely hard wearing decking board. It should be noted that good maintenance of a deck will help it's lifespan.
More character with great aesthetic value
Needless to say, nothing beats natural materials for a natural look and feel. Timber patios and decks effortlessly convey class and comfort at the same time. Also, wood's characteristics make it adaptable to various designs that can easily transform the ambience of your property.
Timber alfrescos usually require regular sweeping and mopping even without harmful detergents. A regular maintenance schedule will ensure that your deck lives up to it's potential. Maintaining a deck is as simple as giving it one coat of a stain every 6 months to a year. It usually takes 15 minutes or so. Choosing good quality and hard wearing decking boards suitable to your application will also benefit you
Synthetic Decks
Prone to irreversible damage
Both wood and composite materials are bound to wear and tear. However, once damages such as fading, stains, scratches and cracks occur in composite boards, it tends to be permanent. Due to its composition, physical or chemical remedy can do little to repair these damages.
Also, you'll notice that composite decks not only fade but will occasionally look powdery after some time of use. This is due to its plastic component that peels off or degrades little by little over time.
Sags under its own weight
Instead of the standard 400 mm spacing between the joists, composite manufacturers advise to have it 300mm apart. It's because this material sags on its own weight. It's also noticeable how the composite boards tend to be slightly bent in their full length right after manufacturing.
Every production batch of composite boards will likely have various levels of difference in shades even if it's for the same model. When you replace damaged boards, expect a visibly difference from the rest.
Composite decks mainly earned its popularity through manufacturers' claims that it's maintenance-free. This statement was later reduced to low-maintenance due to an array of lawsuits against various composite board manufacturing companies. Contrary to earlier claims, composite decks require regular cleaning using chemicals with vigorous brushing to prevent mold growth.