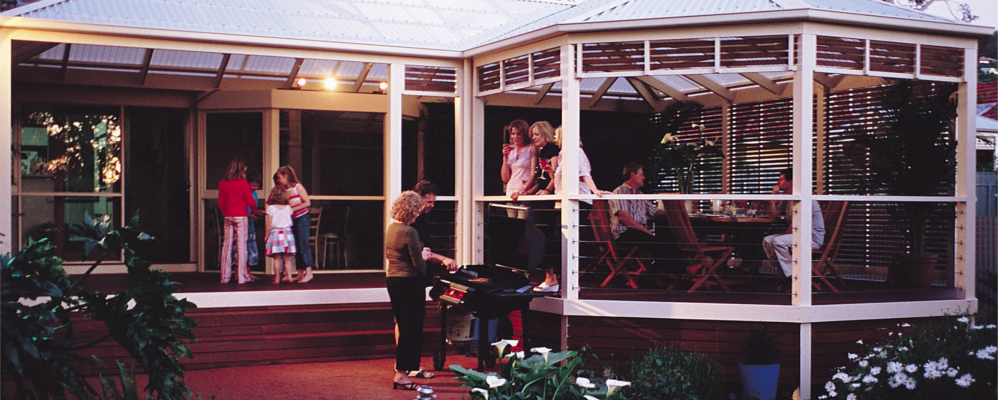 Why Patio Living's performance will exceed your expectations
When it comes to home improvement, it's vital that you choose the right design, the right materials and the right team to have behind you. Whether you're building a patio, an alfresco, a carport or decking, getting it right first time is an absolute must.
That's where Patio Living comes in. We are there every step of the way, from discussing your own ideas, to creating the perfect design, to building the project to the highest possible standards. We have the experience, the process, the service and the skills to help you work out exactly what you want, and to exceed your expectations.
The design process
Patio Living's design team is here to help you realise your dreams, and to help you create a workable design for your project. Drawing on a wealth of experience in the industry, our design team has the knowledge and the skills to help you create the perfect design.
Our design team can consult decades' worth of past Patio Living design projects, which allows them to revisit ideas and design concepts to see what has been done in the past, and to draw insight on what works and what doesn't work. The team can then pass on this insight to you as a client.
During the design process, you will have the services of a design consultant, who will manage your project and provide one main point of contact for all communication regarding the project. You will also have the services of a dedicated in-house draftee, who will verify the structural integrity of everything we build, allowing us to be as creative in our design as possible.
We don't employ any sales staff and our two dedicated design consultants have both worked for the company for a combined 30 years!
Communication
At Patio Living, we understand that lack of communication is one of the biggest complaints in the building industry, with clients often feeling they are being left in the dark. Clients who don't know what's going on can get frustrated, making the whole project much more stressful than it needs to be.
We certainly don't want that, and that's why we make communication a priority – by having both the process and people in place to ensure you are always in the picture.
As for communication between each member of our team, we ensure all lines of communication remain open, so each involved party knows exactly what's going on. From the site supervisor, to the construction manager, to the design consultant, to the building team, communication is open and ongoing throughout the project.
Workmanship
Another common client concern is workmanship. Clients want to know that the workmanship on their project will be up to scratch. In this, again, Patio Living can exceed your expectations. Our building team has worked for Patio Living for many years, creating alfrescos, patios, carports and decking that are of the highest possible standard.
Our building team pays close attention to detail, and always want to build the best possible design for each and every client.